April 13th-15th, 2018
MIT Campus
E14 (MIT Media Lab) 6th Floor, 75 Amherst St
Are you interested in healthcare innovation?
Then this is the event for you!
Join MIT Hacking Medicine for one of the largest health hackathons in the world! This is the weekend to brainstorm and build innovative solutions with hundreds of like-minded engineers, clinicians, designers, developers and business people. Within our three hackathon tracks, there is sure to be a healthcare challenge for everyone!
Interested in helping out? Sign up to be a mentor or get in touch!

Global Public Health Track:
Affordable and Accessible Solutions that Will Scale
Creating solutions to minimize the stigma and challenges that surround patients living with their illness. This track will discover innovative approaches aimed to improve a patient's ability to maintain a high level of independence by improving patient quality of life and patient outcomes.

Connected Health Track:
Breaking Down Barriers Across Health Systems
How can we use multi-source data to improve the provision of healthcare services? With the distribution of healthcare for a single patient across many providers, it is now more important than ever to improve synergy. This track will focus on innovating existing community workflows to promote quality healthcare delivery.
Friday
Saturday
Sunday
Prizes, Pre-Hack, In-Kind, and Media Sponsors
Facebook
MIT Hacking Medicine
06/13/2018 @ 22:02
Introduction to MIT Hacking Medicine
Learn from our past and present MIT Hacking Medicine leadership team about who we are, what we do and how we run our hackathons. MIT Hacking Medicine brings ...
Twitter
06/23/2018 @ 7:25
Showing #AMPSHack how to deliver an effective pitch in preparation for tomorrow's final #hackathon pitches for the @AssoMPS + @mithackmed Hacking Sciences et Santé in #cancer #publichealth #healthcare #innovation https://t.co/NqyeTJ9wxT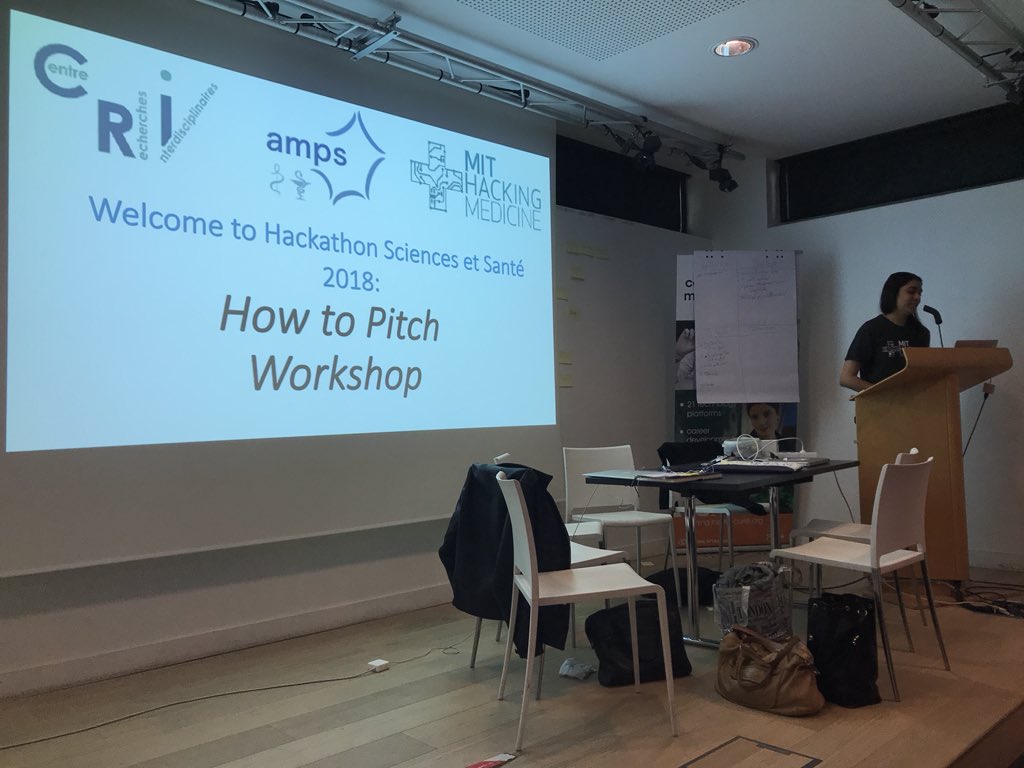 06/22/2018 @ 12:37
Team formation happening over tasty French food! 36 problems pitches made tonight! Excited to see what new #healthcare #innovations & solutions will be pitched on Sunday! #AMPSHack @AssoMPS @mithackmed https://t.co/J3ISRRtffW

06/22/2018 @ 9:21
Kicking off the @AssoMPS @mithackmed Hackathon - Hacking Health and #Science - in #Paris France!! Democratizing #healthcare #innovation!! https://t.co/WRBbrpRt2x